DanMachi \ Dungeon ni Deai wo Motomeru no wa Machigatteiru Darou ka + OVA
Is It Wrong to Try to Pick Up Girls in a Dungeon? Is It Wrong to Expect a Hot Spring in a Dungeon?
ダンジョンに出会いを求めるのは間違っているだろうか OVA「ダンジョンに温泉を求めるのは 間違っているだろうか」
Overview
On their way back from the 18th floor, Hestia, Bell, and the others accidentally uncover a hidden, mystical hot spring, and they decide to stop by to refresh themselves until creatures lurking in the dark appear to attack them.
Cast
Yoshitsugu Matsuoka
Inori Minase

Ai Kayano
Sōma Saitō
Yuka Iguchi

Kazuyuki Okitsu

Maaya Uchida

Saori Hayami

Yoshimasa Hosoya

Chinatsu Akasaki

Saori Oonishi

Yuka Terasaki
Yurika Kubo
Crew
Jin Aketagawa
Youhei Suzuki
Youhei Suzuki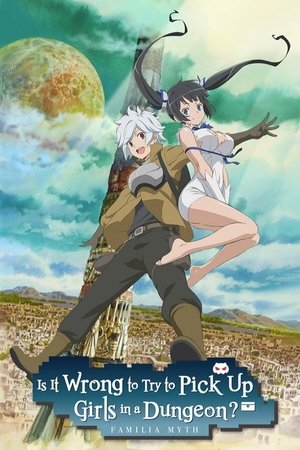 Is It Wrong to Try to Pick Up Girls in a Dungeon?
ダンジョンに出会いを求めるのは間違っているだろうか
Overview
In a world, where the deities have descended from the heavens lies the town of Orario that features the Dungeon, which contains an assortment of monsters from goblins to dragons. Adventurers slay those monsters and take their shards, which are then used to craft magic items. To become an adventurer, people join groups called Familia. Each of which is named after and serves a resident deity. The adventurers and their attributes and abilities are ranked by level, improved by experience and supervised by their Familia's deity. Bell Cranel, a novice adventurer, is the sole member of the Familia under the goddess Hestia. After being saved by top level adventurer Ais Wallenstein of the Loki Familia, he falls in love with her and decides to improve and become worthy of her attention. All the while mostly unaware that other girls, deities and mortals, also develop feelings for him. Especially Hestia herself.
Cast
Yoshitsugu Matsuoka
Inori Minase

Saori Oonishi

Yuka Terasaki

Maaya Uchida
Shizuka Ishigami

Nobuhiko Okamoto

Saori Hayami
Yōko Hikasa
Yurika Kubo
Risa Taneda
Yuka Keicho
Seasons
Specials

Season 1
Season 2
Season 3