Maken-Ki! + Maken-Ki! Two Complete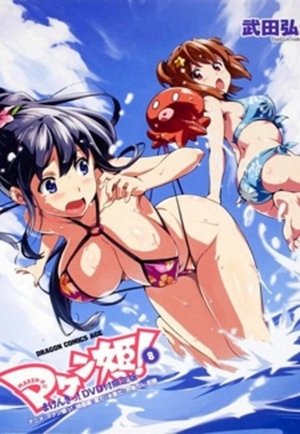 Maken-ki! Takeru Turns into a Woman!? Naked on a Southern Island!
Maken-ki! Two: Takeru Nyotaika!? Minami no Shima de Supoon
Overview
The group decides to take a trip to the beach to get a long deserved break, yet Takeru has been forced into intense training to control his Maken. During Takeru's training an emergency at the beach cuts things short...
Cast
Chiwa Saito

Noriko Shitaya
Tomoaki Maeno
Hitomi Harada

Iori Nomizu

Mina
Misuzu Togashi

Satoshi Tsuruoka
Sayuri Yahagi
Crew
Yōsuke Kuroda
Yōsuke Kuroda
Maken-ki! It's Summer! It's Swimsuits! It's Training Camp!
マケン姫っ! 夏だ!水着だ!合宿だ!
Overview
OVA bundled with manga volume 8.
Cast

Noriko Shitaya
Tomoaki Maeno
Sayuri Yahagi
Hitomi Harada
Crew
Yōsuke Kuroda
Maken-Ki! Battling Venus
マケン姫っ!
Overview
This romantic comedy is about Takeru Ohyama, a typical perverted teenage boy. His new school doesn't require entrance exams, and it just turned co-ed! Unfortunately, his dreams of a happy high school life are dashed when he finds out the school is much more than it seems. All of the students wield a special item—a Maken—to unleash their magical abilities in duels! Can Takeru find a Maken that works for him? Even while trying to fit in at a new school and dealing with all kinds of girl problems?
Cast
Tomoaki Maeno
Crew
Yōsuke Kuroda
Seasons
Specials