Mobile Suit Gundam Wing
Mobile Suit Gundam Wing: Endless Waltz
新機動戦記ガンダムW: ENDLESS WALTZ
Overview
After Colony 196, Treize Kushrenada is dead and the 5 young soldiers known as the Gundam pilots have brought peace between Earth and the Colonies through Operation Meteor. Now they move on with their lives and their Gundams are being disposed of in the sun, never needed again. Or do they? Meet Marimaia Kushrenada, the long lost daughter of Treize. Manipulated by her grandfather Dekim, she plans to take over earth and bring it back to war with the true Operation Meteor. Relana Peacecraft gets kidnapped by her and the thought dead Barton organization and to top it off one of the Gundam pilots is fighting by their side. Now their only hope of bringing peace back is on its way to the sun. Who is the traitor? What was the true intention of Operation Meteor Will they get their Gundams in time for one last battle? Will there finally be peace?
Cast
Hikaru Midorikawa
Toshihiko Seki

Ai Orikasa

Akiko Yajima

Toshiyuki Morikawa

Daiki Nakamura
Minoru Inaba

Shinya Ôtaki

Rei Sakuma

Naoko Matsui

Isshin Chiba
Crew
Kow Otani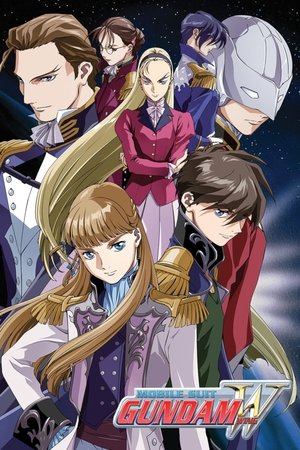 Mobile Suit Gundam Wing
新機動戦記ガンダムW
Overview
Mankind has moved into space. Thousands of people live on giant orbiting space colonies called "Sides." However, the Earth Government, which rules the colonies, is unjust and cruel. A group of revolutionaries builds five robotic weapons called Gundams and plans to send them to Earth to begin their fight for independence. Piloted by five young men, these Gundams carry the hopes and dreams of freedom of the colonists with them as they descend to Earth to begin Operation Meteor!
Cast

Akiko Yajima
Toshihiko Seki
Hikaru Midorikawa

Ai Orikasa
Takehito Koyasu

Ryotaro Okiayu
Chisa Yokoyama

Saori Sugimoto

Yumi Touma

Naoko Matsui
Minoru Inaba
Akio Otsuka
Crew
Kow Otani

Shinji Takamatsu
Seasons
Specials
Season 1