PERSONA3 THE MOVIE
Persona 3 the Movie: #2 Midsummer Knight's Dream
劇場版 ペルソナ3 第2章 Midsummer Knight's Dream
Overview
After realizing the value of life and the importance of his own allies, Makoto finally got his smile back. As spring turns into summer, he finds himself learning more about those comrades and getting closer to them. He even meets new friends, including Aegis, an anti-Shadow android, Ken, a grade-schooler who seeks to get revenge for his late mother, and Koromaru, a dog who can use a Persona. Makoto wishes that everything will continue just as they are. However, little by little, the pieces and people in Makoto's new, happy life begin to fall apart, and he is forced to suffer the loss that comes with it.
Cast

Akira Ishida

Maaya Sakamoto
Rie Tanaka

Megumi Ogata
Hikaru Midorikawa
Kazuya Nakai
Megumi Toyoguchi

Kohsuke Toriumi
Mamiko Noto

Miyuki Sawashiro
Isamu Tanonaka
Hideyuki Hori

Fumiko Orikasa

Nobutoshi Canna
Kanehira Yamamoto

Yuka Komatsu
Hitomi Nabatame
Crew

Satoki Iida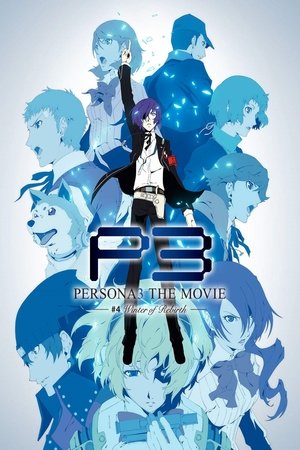 Persona 3 the Movie: #4 Winter of Rebirth
劇場版 ペルソナ3 第4章 Winter of Rebirth
Overview
"The time of destruction is coming ever closer without a doubt. It cannot be stopped." To know death, to gaze at death, to face death. Makoto and his allies have grown through the many meetings and partings they have experienced. Their fight might not be for the sake of the world, but for themselves. Even so, they have continued to fight, believing that there are peaceful days waiting at the end of the battle. However, a boy says that destruction is the fate that humanity must shoulder. The boy they believed to be their friend tells them the truth of the situation without an emotion on his face. The season changes to winter. Makoto makes a decision in order to greet the spring that is waiting beyond...
Cast

Akira Ishida

Maaya Sakamoto
Rie Tanaka
Hikaru Midorikawa
Megumi Toyoguchi

Miyuki Sawashiro
Isamu Tanonaka
Mamiko Noto

Kohsuke Toriumi

Megumi Ogata

Nobutoshi Canna
Kanehira Yamamoto

Masumi Asano
Atsumi Tanezaki

Satomi Satou
Atsushi Kisaichi
Kenji Nojima
Ai Maeda

Yuka Komatsu
Crew

Satoki Iida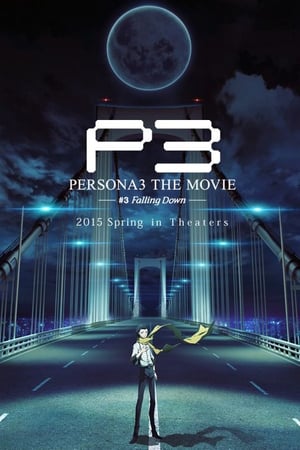 Persona 3 the Movie: #3 Falling Down
劇場版 ペルソナ3 第3章 Falling Down
Overview
The season turns to autumn. The fight of the protagonist and his group S.E.E.S. with the strange monsters called 'Shadows' is getting closer to the end. Makoto and his allies engage in life-or-death battles with Shadows in order to end the Dark Hour. Through the battles, some must face the deaths of friends and family, some must notice what precious things must be protected, and some must find meaning in the battles that have occurred. In front of Makoto, the mysterious transfer student Ryouji Mochizuki appears. When the group greets a new morning, the gears of fate begin to turn. A fight revolving around each of the heroes' bonds begins...
Cast

Akira Ishida
Megumi Toyoguchi

Kohsuke Toriumi
Rie Tanaka
Hikaru Midorikawa

Megumi Ogata
Mamiko Noto

Maaya Sakamoto

Miyuki Sawashiro

Nobutoshi Canna
Hideyuki Hori
Isamu Tanonaka
Atsumi Tanezaki
Ai Maeda
Kenji Nojima
Atsushi Kisaichi

Yuka Komatsu

Fumiko Orikasa
Bin Shimada
Kanehira Yamamoto
Crew

Keitaro Motonaga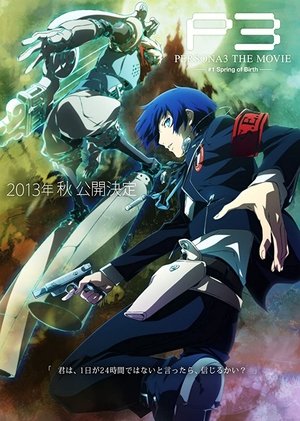 Persona 3 the Movie: #1 Spring of Birth
劇場版 ペルソナ3 第1章 Spring of Birth
Overview
In the spring, male student Makoto Yuki transfers to Gekkoukan High School. However, as he heads to his new dormitory, listening to the music on his headphones, he is stopped. More precisely, time has stopped, and the people who were around him turn into coffins. Makoto learns that this period of time hidden between the minute of midnight is called the Dark Hour, a time when monsters called Shadows appear. Suddenly made the leader of his fellow classmates Yukari and Junpei by his upperclassmen Mitsuru and Akihiko, Makoto must learn empathy, his connection to his comrades, and the meaning of death. With the power of his Evoker aimed at his head, Makoto fights against the Shadows threatening to attack his world from the mysterious tower of Tartarus.
Cast

Akira Ishida
Megumi Toyoguchi

Kohsuke Toriumi
Rie Tanaka
Hikaru Midorikawa
Mamiko Noto
Kazuya Nakai
Isamu Tanonaka

Miyuki Sawashiro
Hideyuki Hori

Yuka Komatsu
Kenji Nojima
Atsumi Tanezaki