Toaru Majutsu no Index + Toaru Kagaku no Railgun Series~A Certain Magical Index + A Certain Scientific Railgun Series
A Certain Magical Index: The Miracle of Endymion
劇場版 とある魔術の禁書目録 -エンデュミオンの奇蹟-
Overview
On the day Tōma Kamijō and Index see Academy City's space elevator, Endymion in the distance, they meet a Level 0 girl with an amazing singing voice, Arisa Meigo. As the three enjoy their time together after school, magic-user Stiyl Magnus suddenly attacks them. His target: Arisa. Why would a girl from the science side be targeted by someone from the magic side, Tōma wonders. In the chaos of Stiyl's attack, he tells Tōma, Index and Arisa that she might cause a war between the magic side and the science side.
Cast
Atsushi Abe
Yōko Hikasa
Ayane Sakura

Nozomi Sasaki

Satomi Arai

Sachika Misawa
Aki Toyosaki

Anri Katsu
Asami Seto

Kanae Itō

Megumi Han
Risa Taneda

Nobuhiko Okamoto
Yuka Iguchi

Rina Satou
Kishō Taniyama
Crew

Yasunori Iwasaki

Hiroshi Nishikiori

Hiroshi Nishikiori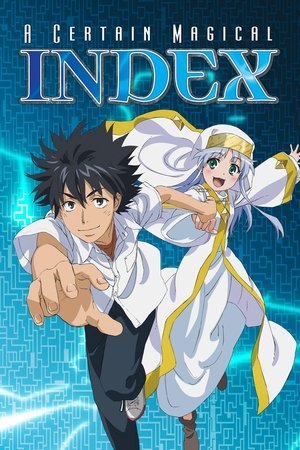 A Certain Magical Index
とある魔術の禁書目録
Overview
Kamijo is a student in Academy City, where people use science to develop supernatural abilities. The guy's got a lot of heart – luckily for a young nun named Index. She's on the run from a sorcery society that covets the astonishing 103,000 volumes of magical knowledge stored in her memory. When Index stumbles into Kamijo's life, she find a faithful friend and protector, and while Kamijo's easily the weakest kid in Academy City, he's got something else going for him: the Imagine Breaker, an unexplainable power stored in his right hand that negates the powers of others. With scientists and sorcerers attacking from all sides, the Imagine Breaker will definitely come in handy – but it's Kamijo's loyalty to Index that will be his greatest weapon in the fight to keep her safe.
Cast
Atsushi Abe
Yuka Iguchi

Rina Satou

Satomi Arai

Nobuhiko Okamoto

Anri Katsu
Satoshi Hino

Kimiko Koyama

Yoshihisa Kawahara
Misato Fukuen
Aki Toyosaki

Ayumi Fujimura

Mika Doi

Yumi Hara

Hōchū Ōtsuka
Masaya Matsukaze

Yuko Kaida
Seasons

Specials
Season 1

Season 2

Season 3
A Certain Scientific Railgun
とある科学の超電磁砲
Overview
Misaka's electro-manipulation abilities – and delightfully destructive Railgun projectile move – make her a rock star in Academy City. The techno-metropolis is packed with supernaturally powered students known as espers, including Misaka's flirty friend and roommate, Kuroko. She uses her teleportation skills as a member of the Judgment law enforcement team, fighting crime alongside her fellow agent Uiharu. Joined by their friend Saten, a spunky Level 0 esper, Misaka, Kuroko, and Uiharu have a blast taking on danger whenever and wherever it arises.
Cast

Rina Satou

Satomi Arai
Atsushi Abe
Aki Toyosaki

Minako Kotobuki

Kanae Itō

Atsuko Tanaka
Kana Ueda
Seasons
Specials
Season 1
A Certain Scientific Railgun S

A Certain Scientific Railgun T